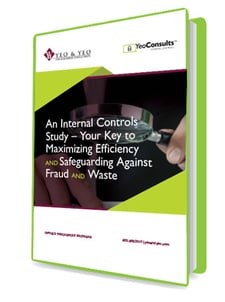 At Yeo & Yeo, we believe an internal controls study is the ideal vehicle to propel a business, medical practice, nonprofit organization or institution toward compliance, efficiency, profitability and peace of mind, while steering it away from disorganization, waste and, most damaging of all, fraud.
Our new e-book, An Internal Controls Study – Your Key to Maximizing Efficiency and Safeguarding Against Fraud and Waste, is designed to explain internal controls studies in detail—what they are; what they involve; what they deliver; and how they can help your organization. It also highlights the significant benefits of truly experienced internal controls study providers; and it offers recommendations for selecting the right provider, if you choose to outsource this vital function.
Fill out the form on the right to download your free copy.
If you'd like to learn more about our internal controls study services and the approach we could recommend for your organization, please contact us for a free initial consultation. You can also learn more about Yeo & Yeo and our internal controls services by viewing our internal control information sheet.